Ready to Succeed?
Don't "diet", instead, Transform Your Life! We offer meal plans with recipes that taste GREAT! Enjoy your food, live your life, and reach your goals!

Learn More
Healthy Recipes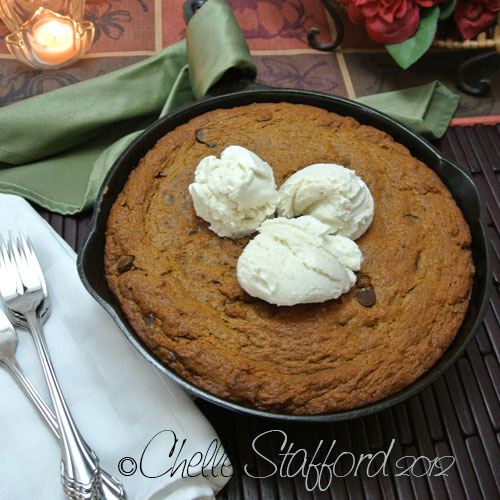 Many restaurants serve a cast-iron skillet dessert, and if you're brave enough to look up the nutritional information, you'll discover that those skillets are impossible to fit into a healthy lifestyle. My cookie skillet is a flourless cookie that bakes up decadently rich and delicious! Full of protein, vitamins & minerals, and heart-healthy fats, you can enjoy this dessert without worrying about its impact on your hips!

Pumpkin Peanut-Butter
Cookie Skillet
Recipe by Chelle Stafford
Makes 16 servings

Ingredients
1 16-oz Smart Balance Rich Roast Peanut Butter, smooth
1 cup pureed pumpkin (canned, not pumpkin pie mix)
2 large egg whites
1 tsp baking soda
2 Tbsp pumpkin pie mix
2 packets Stevia
¼ tsp sea salt
½ cup Maple Syrup – 100% pure
1 cup Semi-sweet chocolate chips

Directions
● Preheat oven to 350°
● In a large bowl, with a hand mixer, blend peanut butter, pumpkin and egg whites until creamy
● Add pumpkin pie spice, stevia, salt and baking soda
● Mix well with hand blender until all ingredients are thoroughly combined
● Add maple syrup and mix well
● With a wooden spoon, mix chocolate chips into the batter
● Spread batter into a seasoned (lightly oiled) 10-inch cast iron skillet*
● Bake at 350° for 35 minutes or until edges become golden and center is mostly firm (not jiggly). This cookie should be a bit gooey in the middle.
● Remove to wire rack to allow to cool for 2-5 minutes.
● Serve warm.

**If you don't have a cast iron skillet, you can use a glass pie dish or baking dish.

Tips
This recipe can be prepared entirely gluten free and/or dairy free by purchasing GF
and/or DF chocolate chips.

Top with vanilla ice cream, whipped cream or vanilla protein ice cream!

Nutrition
per serving: 274 calories, 8 grams protein, 24 grams carbs, 18 grams fat, 3 grams
fiber, 17 grams sugar, 246 mg sodium. 21 net carbs.
As seen on Smart Balance's Facebook Page, Recipe Challenge App - Oct 1-5, 2012